By Gayle Rountree on May 21, 2015 in Uncategorized | Comments Off
Showtimes:  Friday, May 22 to Thursday, May 28



TOMORROWLAND

–

CLOUDS OF SILS MARIA

–

EX MACHINA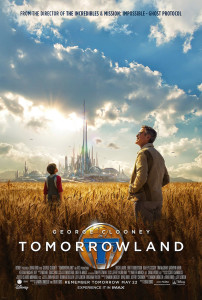 Click the Title to visit Official Disney Website for Tomorrowland
(PG) 2 hr 10 mins
Fri-Sun:

 

2:00 PM, 4:45 PM, 7:30 PM
Mon-Thu:

4:30 PM & 7:15 PM
(Click Poster to View Trailer)
Tomorrowland movie stars George Clooney (Gravity, Ocean's 11), Hugh Laurie (House, Blackadder) and Britt Robertson (Scream 4, Life Unexpected) in an epic science fiction movie from Walt Disney Studios Motion Pictures. Bound by a shared destiny, a bright, optimistic teen bursting with scientific curiosity and a former boy-genius inventor jaded by disillusionment embark on a danger-filled mission to unearth the secrets of an enigmatic place somewhere in time and space that exists in their collective memory as Tomorrowland. What they must do there changes the world—and them—forever. Featuring a screenplay by Brad Bird and Lost writer and co-creator Damon Lindelof, from a story by Lindelof & Jeff Jensen and Bird, Tomorrowland promises to take audiences on a thrill ride of nonstop adventures through new dimensions that have only been dreamed of.

Click the Title to visit Official Facebook Page for the Movie
(R) 2 hr 04 mins
Fri & Sun:

2:15 PM, 7:45 PM
Sat:

5:00 PM
Mon & Wed:

7:15 PM
Tue & Thu:

4:30 PM
(Click Poster to View Trailer)

Click the Title to visit Official Movie Website – try your own Ava Session
(R) 1 hr 50 mins
Fri & Sun:

5:00 PM
Sat:

2:15 PM, 7:45 PM
Mon & Wed:

4:30 PM
Tue & Thu:

7:15 PM
(Click Poster to View Trailer)
Alex Garland, writer of 28 Days Later and Sunshine, makes his directorial debut with the stylish and cerebral thriller, EX MACHINA. Caleb Smith (Domhnall Gleeson), a programmer at an internet-search giant, wins a competition to spend a week at the private mountain estate of the company's brilliant and reclusive CEO, Nathan Bateman (Oscar Isaac). Upon his arrival, Caleb learns that Nathan has chosen him to be the human component in a Turing Test-charging him with evaluating the capabilities, and ultimately the consciousness, of Nathan's latest experiment in artificial intelligence. That experiment is Ava (Alicia Vikander), a breathtaking A.I. whose emotional intelligence proves more sophisticated–and more deceptive–than the two men could have imagined.