By Michael & Carolina Ellenbogen on Jul 30, 2015 in Uncategorized | Comments Off
Showtimes -  FRI, July 31 to THU, Aug 6

WEEK SUMMARY (Details Below)
MISSION IMPOSSIBLE: ROGUE NATION

(PG-13, 2h 11m)
Fri-Thu: 1:45 PM, 4:45 PM and 7:45 PM
PAPER TOWNS

(PG-13, 2h 3m) [FINAL WEEK!]
Fri-Thu: 2:00 PM, 5:00 PM and 8:00 PM
---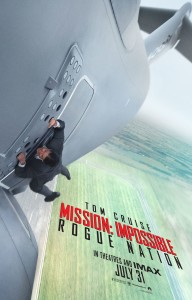 Click the Title to visit Official Website.
(PG-13) 2 hr 11 mins
FRI-THU: 1:45, 4:45 and 7:45 PM
(Click Poster to View Trailer)
 With the IMF now disbanded and Ethan Hunt (Tom Cruise) out in the cold, a new threat — called the Syndicate — soon emerges. The Syndicate is a network of highly skilled operatives who are dedicated to establishing a new world order via an escalating series of terrorist attacks. Faced with what may be the most impossible mission yet, Ethan gathers his team and joins forces with Ilsa Faust (Rebecca Ferguson), a disavowed British agent who may or may not be a member of this deadly rogue nation.
"Five movies in, Cruise has perfected the M:I formula — a simple spy story, passable character comedy, and extremely long, impressively sustained action sequences." J. R. Jones, Chicago Reader
"As much as Cruise dominates "Rogue Nation," it's his co-star, Rebecca Ferguson, who emerges as the film's true and most memorable revelation." Ann Hornaday, Washington Post

---
Click the Title to visit Official Website for the movie.
(PG-13) 2 hr 3 mins
FRI-THU: 2:00 PM, 5:00 PM and 8:00 PM
(Click Poster to View Trailer)
  Adapted from the bestselling novel by author John Green ("The Fault in Our Stars"), PAPER TOWNS is a coming-of-age story centering on Quentin and his enigmatic neighbor Margo, who loved mysteries so much she became one. After taking him on an all-night adventure through their hometown, Margo suddenly disappears–leaving behind cryptic clues for Quentin to decipher. The search leads Quentin and his quick-witted friends on an exhilarating adventure that is equal parts hilarious and moving. Ultimately, to track down Margo, Quentin must find a deeper understanding of true friendship–and true love.
JOIN our PAPER TOWNS Facebook Event to share fun facts and content with your friends: PAPER TOWNS!
---
Join Movie Events, Make Plans with Friends to See Movies, Win Tickets and Discover Things About the Movies!
---
Thank you for choosing the Village Picture Shows Cinema!
Please Understand: Outside Food or Beverages are not permitted; our concessions are vital to the survival of cinema the same way that food sales are vital to a restaurant – if you bring your own food to a restaurant, the restaurant goes out of business… it is the same for the cinema. We POP Delicious Popcorn Fresh Daily and serve Fountain Sodas, Bottled Teas and Water as well as a full range of Candy to Satisfy Any Sweet-tooth. We Thank You for Your Understanding and Your Patronage of Our Concession Stand.