By Michael & Carolina Ellenbogen on Oct 1, 2015 in Uncategorized | Comments Off on 10.02.15
Showtimes –  Fri, Oct 9 – Thu, Oct 15

WEEK SUMMARY (Details Below)
THE MARTIAN



(ACTION-ADVENTURE/SCI-FI, PG-13, 2h 22m)
FRI & MON:  5:00 PM, 8:00 PM
SAT & SUN:  2:00 PM, 5:00 PM, 8:00 PM
TUE-THU:  6:45 PM
THE INTERN
(COMEDY, PG-13, 121 m)
FRI & MON:  5:15 PM, 8:15 PM
SUN:  5:15 PM, 8:15 PM
TUE-THU:  7:00 PM
---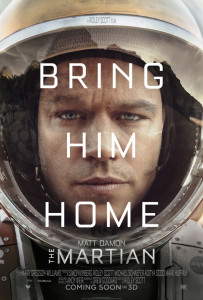 Saving the world never goes out of style.

Click the Title to visit our Event.
ACTION-ADVENTURE/SCIENCE FICTION
(PG-13,  2 hr 22 mins)
FRI & MON

:  5:00 PM, 8:00 PM
SAT & SUN

:  2:00 PM, 5:00 PM, 8:00 PM
TUE-THU

:  6:45 PM
(Click Poster to View Trailer)
During a manned mission to Mars, Astronaut Mark Watney (Matt Damon) is presumed dead after a fierce storm and left behind by his crew. But Watney has survived and finds himself stranded and alone on the hostile planet. With only meager supplies, he must draw upon his ingenuity, wit and spirit to subsist and find a way to signal to Earth that he is alive. Millions of miles away, NASA and a team of international scientists work tirelessly to bring "the Martian" home, while his crewmates concurrently plot a daring, if not impossible rescue mission. As these stories of incredible bravery unfold, the world comes together to root for Watney's safe return.
STARRING:  Matt Damon, Jessica Chastain, Kristen Wiig, Jeff Daniels, Chiwetel Ejiofor, Michael Pena, Kate Mara, Sean Bean, Sebastian Stan, Mackenzie Davis, Donald Glover
DIRECTED BY: Ridley Scott
---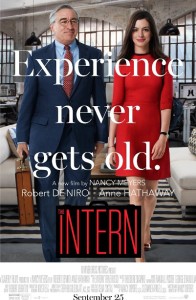 Experience never gets old…
LAST WEEK!
(PG-13) 2 hr 01 mins
FRI & MON

:  5:15 PM, 8:15 PM
SAT & SUN

:  2:15 PM, 5:15 PM, 8:15 PM
TUE-THU

:  7:00 PM
(Click Poster to View Trailer)
A retired successful business owner and widower lands an internship at an online fashion website run by a young, career-driven woman.
GENRE: Comedy
STARRING: Robert De Niro, Anne Hathaway, Rene Russo, Anders Holm, Andrew Rannells, Adam DeVine, Celia Weston, Nat Wolff, Linda Lavin, Zack Pearlman
DIRECTED BY: Nancy Meyers
SCREENPLAY BY: Nancy Meyers
---
Join Movie Events, Make Plans with Friends to See Movies, Win Tickets and Discover Things About the Movies!
---
Thank you for choosing the Village Picture Shows Cinema!
Please Understand: Outside Food or Beverages are not permitted; our concessions are vital to the survival of cinema the same way that food sales are vital to a restaurant – if you bring your own food to a restaurant, the restaurant goes out of business… it is the same for the cinema. We POP Delicious Popcorn Fresh Daily and serve Fountain Sodas, Bottled Teas and Water as well as a full range of Candy to Satisfy Any Sweet-tooth. We Thank You for Your Understanding and Your Patronage of Our Concession Stand.